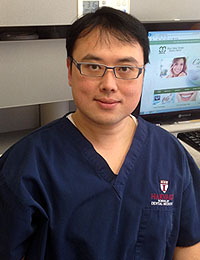 Luhao Chen
DDS
Dr. Chen was born and raised in Taiwan. He came to America in his teens and started walking on this long path of learning and education. He graduated from UCLA with a Bachelor's Degree in Biochemistry, and he chose to pursue a career in dentistry. In 2007, Dr. Chen graduated from New York University College of Dentistry. He was among the top students in the class and was an honor student in Aesthetic Dentistry. Upon graduation from NYU, he was inducted as an OKU (Omicron Kappa Upsilon) member. Dr. Chen then was recruited to the Harvard School of Dentistry as one of only six residents. He completed this intensive training program in 2008. Since then, he has been seeing patients from Allston, Brighton, Back Bay, Brookline, Cambridge, and Jamaica Plain for the past eight years. Seeing so many patients with happy smiles has been great, and opening C&C Dental will start a new chapter for Dr. Chen in dentistry!
Dr. Chen believes in "Seeing is Believing!" By combining the latest visualization technology with dentistry, patients can see what and where the problems are! So together, Dr. Chen and his patients can work out a treatment that will be most effective in helping patients' oral health!
C&C Dental is not just Dr. Chen's clinic. Dr. Chen hopes this is the place where he and his patients are united, working together to bring out smiles for everyone!
On his leisure time, Dr. Chen likes to cook, try different food, travel, and play basketball.
C and C Dental | Brookline, MA Dentist